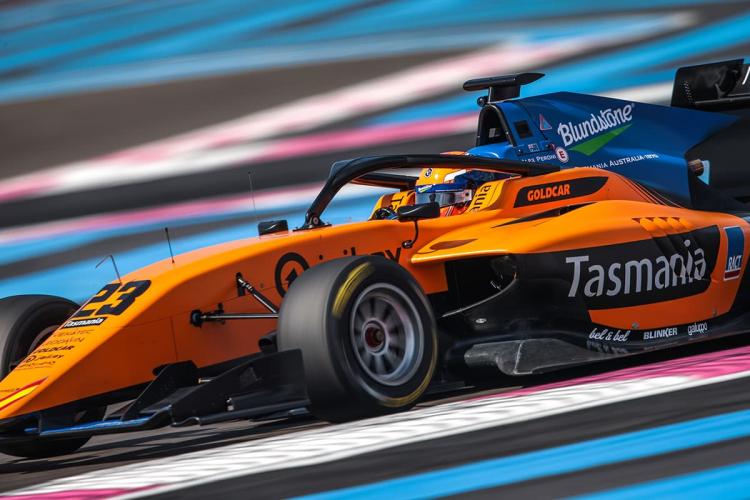 Blundstone sponsored young athlete, Alex Peroni, is a step closer to realising his Formula 1 driver dream with confirmation of his 2019 FIA Formula 3 Championship campaign.
Peroni, 19, has signed with leading European team Campos Racing for the championship, which is the rebranded GP3 Series that has been an official Formula 1 support category since 2010.
All eight FIA Formula 3 Championship rounds will be held at European Formula 1 race meetings, putting Alex directly in front of the Formula 1 teams' talent scouts.
Alex was keen to race with Campos in the FIA Formula 3 Championship following a successful three-day test with the team late last year in Abu Dhabi and the two parties agreed on terms for a campaign in the championship, which begins in Barcelona, Spain on May 10 2019:
"I felt comfortable immediately with the Campos team in Abu Dhabi," Peroni said. "They did everything they could to help me, and good lap times came very quickly. I was very impressed with how hard they worked, and from that moment I wanted an opportunity to drive with Campos in the FIA Formula 3 Championship."
Adrian Campos, ex Formula 1 Driver and team principle welcomed Alex to the team, saying "Alex showed some impressive performances in Formula Renault last year. We believe that he has great prospects, and with the right preparation from Campos Racing he will reach his full potential."
Having demonstrated his potential by winning a Formula Renault Eurocup race at Monaco last year, Alex is ready to contest the world's most prestigious junior openwheeler championship.
"I've been dreaming of competing in GP3 – now the FIA Formula 3 Championship – since I graduated from racing karts to cars in 2015. This year's FIA Formula 3 Championship gives me eight opportunities to show what I can do."
Alex's new deal also includes membership of the Campos Academy, which provides physical and psychological training, driver coaching and extensive access to the team's simulator.
Blundstone CEO Steve Gunn believes that Alex's story showcases the depth and breadth of talent in Tasmania:
"A common goal of Alex's sponsors and supporters is to promote Tasmania and all things Tasmanian to the world, from our world-class products, our magnificent food and beverages, our incredible tourism and hospitality, our tertiary education sector and so much more," he said.
In addition to support from Tasmanian's business community, Alex will also become an ambassador for Tasmania on the world stage, raising awareness of Tasmania's brand and carrying the Tasmania brand on his car.
Photo © Dutch Photo Agency